Our Bishop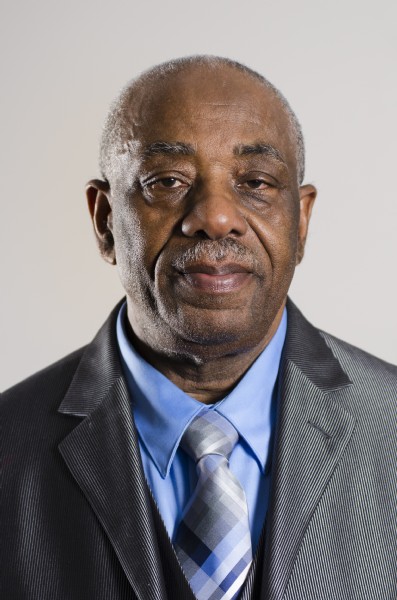 Bishop Lucas Phillip Green, a man of God who leads the charge at The Evangelical Church of God, located at 17 Branchton Road, Cambridge, Ontario, the Southwestern part of the Province. He is the General Overseer and Senior Pastor; the under shepherd of the flock. Pastor Green as he likes to be called, is a preacher of no mean order who delivers the word with power and authority, and without compromise.
Bishop Green is a man of vision, who listen and follow the leading of the Lord through the direction of the Holy Spirit. He is a strong leader who is not easily discouraged, and live by example to his followers. This man of God is blessed with many talents and gifts. He is an accomplished accountant by profession, and still carry out such duties for the ministry. He studied accounting in Jamaica, and worked for the Agricultural Marketing Corporation (AMC) before migrated to Canada in 1974. He is a very independent person; as a result, he would take on any job, in order to maintainm his independence.Outside of his profession, he work as Life underwriter and later became a CNC machinist, while steadily involved with church and ministering the word.
Bishop's passion for Christ and the gospel started at the young age of twenty two when he was converted by the Holy Spirit and never looked back. He was young, ready, able and willing to work for the Lord, and became an active leader in many different aspect of church ministries; including Youth ministry, Sunday school, and Men ministry. Since migrated to Canada, he continued his activity with church life and became involved with the establishment of two churches in Toronto that are still vibrantly moving on. He moved to Kitchener in 1975; but his passion for the work he had helped to establish, would have him and his family commute back and forth to Toronto every Sunday.
Bishop Green was Ordained to the Sacred office of Pastor by the late Dr. Wilfred A. Shaw in 1978. He gave up his Toronto tenure in 1988 when it became too much for travel and became part of the New Testament Church of God in Kitchener, where he served for about three years. In continuing his ministry, he took some studies at the Emmanuel Bible College in Kitchener, before moving on to his present ministry and became independent.This man of God has a passion for Souls above everything else. His words to his congregation always goes like this: "I do not want to be famous, I just want to be a servant of God."
Bishop is married to his lovely wife Mrs. Elenora Green for over forty years; and they are blessed with a family of three children: two hansome sons, Lyle and Kevin Green and one beautiful daughter, Marissa Green, and two lovely grandchildren; Micah Green and Jeremiah McGuirk (Green)